The reality of online learning in Guatemala
Earlier this week, I had the opportunity to see firsthand what at-home learning looks like in Guatemala. Having spent nearly two years away from the school and the students, it is a great blessing to be back. We went on three home visits on Monday for students in kindergarten, 2nd grade and 7th grade. All three students are new to Escuela Integrada this year and have never met their teachers or their classmates in person. Our visits were their first experiences of a home visit.
For those of you who have traveled to Guatemala to visit Escuela Integrada, you probably remember how impactful your first home visit was. I sure do. My hope is that that memory stays close to your heart, especially now while Guatemala remains in a heightened state of risk for COVID-19 on top of an already fragile economic system.
According to the World Health Organization, 3.14 doses of the vaccine have been administered per 100 people, reaching a total of 561,976 doses administered in Guatemala. That is in stark contrast to the 90.98 total doses administered per 100 people, with a total of 301,161,088 total doses administered in the U.S.
Guatemala has a long way to go. To put it in perspective, the 500,000 vaccine doses offered by Vice President Kamala Harris during her visit to Guatemala on Monday, will only bring the percentage up to about 6% of the population having access to one dose of the vaccine.
The kids are still learning at home—where "at-home" means the one-room house where you sleep, eat, and work as an entire family, with limited electricity and little-to-no internet access. Compound this with the struggle of being out of work and out of food and you have an at-home learning situation that is very, very different from online or hybrid learning in the U.S.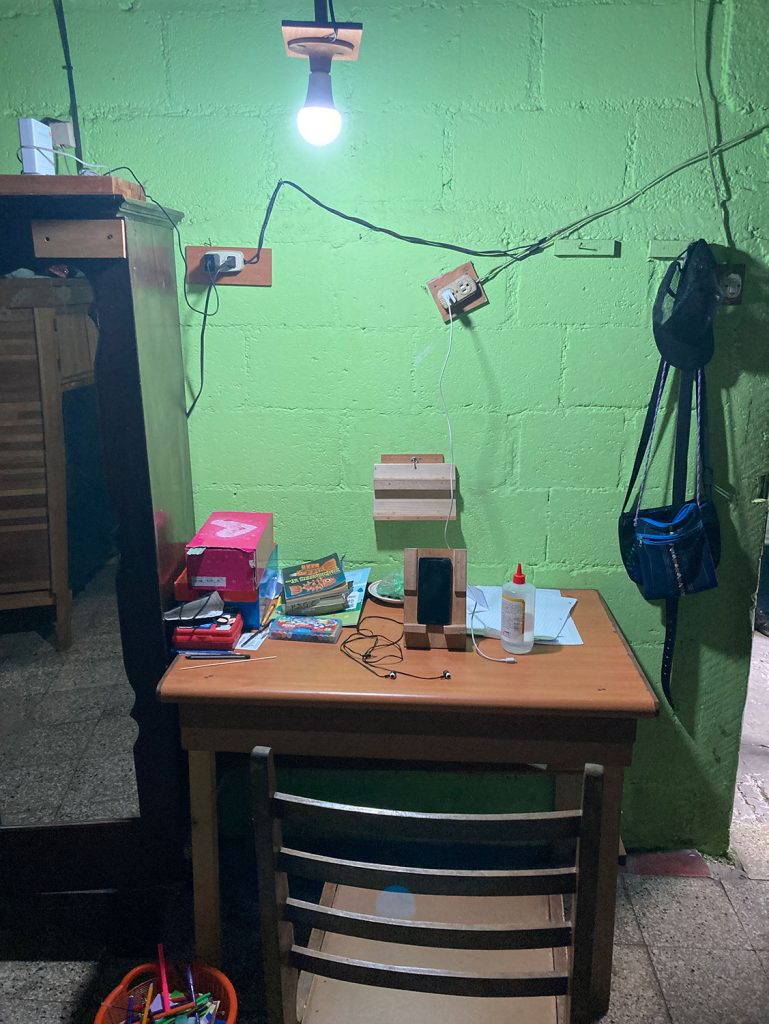 Yet, amidst all this struggle, there is incredible joy at the opportunity to learn. One of the students we visited was over-the-moon excited (pun intended) to show us his diorama of a solar system that he made from materials around the house. Another student beamed with pride when he showed us where he does his schoolwork and how his grandfather constructed a cell-phone holder, rigged the electricity to support a charger and installed a light above the table (see photo).
Their gratitude is palpable for the support they receive from the school and from GRACES. You are a major part of that equation, and for that we express our sincere appreciation. Thank you for your unwavering support.
The students will likely continue learning from home for the remainder of the school year, through October. Please keep the students, their families and the school in your prayers.
In solidarity,
Autumn Jones
GRACES Director of Communications