GRACES' intern Breanna Watson reflects on abrupt end to serving with Escuela Integrada
By Breanna Watson
"Thank goodness we can all go home and get out of here," a stranger at the airport snickered as the long line of mask-wearers desiring to return to the United States filed into La Aurora International Airport one by one. It was 10 p.m. on a Saturday night in Guatemala City, and the cool breeze tickled my cheeks as I waited for my turn. The plane ticket I continued to reload on my phone—bought that afternoon in a panic—was one of the last stark reminders that things had definitely changed.
In the midst of the chaos of a global pandemic, I wanted nothing more than to return to the field to play a game of fútbol with the kids of Escuela Integrada, or to visit another family in their home, humble, loving places where the best food you've ever had in your life sits warm on a plate in front of you, and the relationships you form are that much warmer.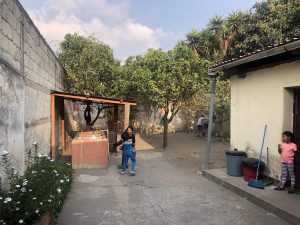 I could not relate to the stranger at the airport because, as cliché as this may sound, Escuela Integrada and the families it represents is truly a home away from home. The relationships I made with alumni from the school and the members of the community still feel like home to me more than two months later, and, in my eyes, are worth everything to return to in the future.
I came to Guatemala for the first time on a Vision Trip with New Hope Christian Church in Memphis, Tennessee, in October of 2019. Bringing a group of teenagers to a foreign country where they do not understand the language or the culture can be risky for a number of reasons, but when I look back I am overjoyed with the high level of enthusiasm that Mike and Morgan Neubauer led our group. Needless to say, this week-long trip inspired a new passion within me. I wanted to learn Spanish, return to Guatemala, and deepen the relationships that were formed in order to break cultural barriers and better understand the people's greatest accomplishments and day-to-day struggles.
With the help of Kevin and Lauren Sanchez, I returned for a second time in February of 2020, prepared for a little over a month of interning at Escuela Integrada and Proyecto Capaz, taking Spanish lessons, and spending time with the kids with more intentionality than I was previously able.
Though the trip did not go exactly as planned, the work of the Holy Spirit was evident during the entirety of my time in Antigua and the surrounding area, encouraging me when I felt insecure about my Spanish and pushing me out of my level of comfort to engage with people at their level. Even lacking the ability to speak proficiently in Spanish, I was shocked that many of the kids really cared about what I had to say, and I grew to deeply appreciate the customary kisses on the cheek and the abundance of hugs and snuggles they give to those whom they trust.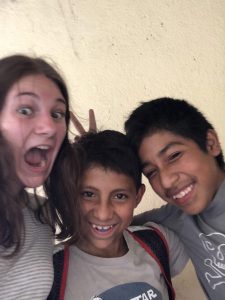 While most of the children have no problem expressing love for another person and reaffirming them in their God-given value, I came to find that many of them are not only struggling with physical poverty, but a poverty of self-worth. Reassuring children of their unchanging worth and their future potential is an aspect of the school that I will always stand behind. 
On one of my days off, I spent some time outside studying scripture, and I came across multiple passages in 1 Corinthians that caused to me to sit in awe of the God we serve. However, the section that stood out to me the most was 1 Corinthians 1:27-29, which says, "But God chose the foolish things of the world to shame the wise; God chose the weak things of the world to shame the strong. God chose the lowly things of this world and the despised things—and the things that are not—to nullify the things that are, so that no one may boast before him."
On the world stage, Guatemala is not a very big, powerful, or rich country. And yet, God has chosen Guatemala and its people to carry out His purpose, and completely imperfect, lowly, and often culturally unaware people like you and I to participate.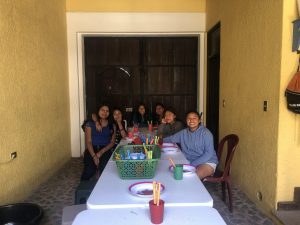 I am so thankful to the entire Escuela Integrada staff and the GRACES organization for allowing me to intern and for being so welcoming to me. I am eager to return once we are safe to travel again, and, in the meantime, I am continuing to work on my Spanish and keep in contact with friends from the school and community.
When I consider the timeline of my life, the country of Guatemala, and Escuela Integrada specifically, it was not just a pit stop along the way, but something with greater purpose that has forever changed the trajectory of my life and my plans for the future.
If I could, I would encourage everyone to get involved with Escuela Integrada and the alumni program—especially in the midst of COVID-19—in the mission of providing quality education and instilling within the children of Antigua and the surrounding area that they are loved, precious and valuable.
Breanna Watson lives in Memphis, Tennessee. She served with GRACES from February 27 until March 21, when she had to leave the country abruptly due to the coronavirus outbreak. While she was in Guatemala, Breanna volunteered with Proyecto Capaz and at the school, while also helping with Kevin and Lauren's Saturday Youth Group and an Escuela Integrada alumni soccer game. She plans to attend Ouachita Baptist University in Arkansas this fall to pursue a double major in communications and media, and community and family services, with a minor in Spanish.